PARTICIPATION OF UMETEC GMBH IN THE PROJECT
I NEW TRANSPORT TRAIN WAGONS FOR THE BLUE AUTOZUG SYLT I
umetec GmbH manufactured special construction parts for new automobile transport train wagons for the "Blue AUTOZUG Sylt". The blue-painted AUTOZUG Sylt ensures a well-scheduled connection from the North Sea island to the mainland – quiet, fuel-efficient and reliable.
In summer 2019, RDC AUTOZUG Sylt GmbH commissioned newly built automotive industry transport train wagons, which it realised in cooperation with Kompetenznetz Rail Berlin-Brandenburg (KNRBB) GmbH.
The most important innovation was that, thanks to the new transport vehicles, AUTOZUG Sylt can now transport not only cars and vans, but also motorhomes, heavy trucks and coaches, among other things. The blue AUTOZUG Sylt thus provides important infrastructure for the economy and tourism.
As a partner of KNRBB GmbH, umetec GmbH Stahlbau produced several special designs for the AUTOZUG:
Delivery of movable and rigid side walls, platform elements, as well as emergency ladders for a total of 36 wagons. Including plastic coverings, screw connections, galvanising and painting.
welding assemblies specially manufactured for the railway industry, certified according to EN 15085-2 (Railway applications I Welding of railway vehicles and components)
More informations: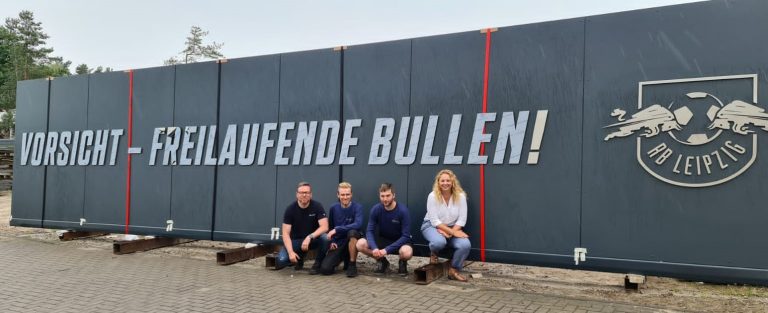 12 METRES LONG I 2.65 METRES HIGH I WEIGHING TONS
ALUMIUNIUM GOAL FOR THE RB LEIPZIG LEAGUE TEAM
umetec GmbH manufactured a rolling door made of tresper panels for the Bundesliga team RB Leipzig. Steel, galvanised and plastered quality work. 12 metres long, 2.65 metres high and weighing several tonnes. Of course, the special truck for transport was also commissioned.
More informations:
Steel tanks for finizio - future sanitations
umetec GmbH manufactures the stainless steel tanks for Finizio – Future Sanitation innovative composting toilets.
We refine your shit into H.I.T. (humus fertiliser from the contents of dry toilets)!
Finizio has designed innovative (mobile) toilets to replace the usual (toxic) chemical toilets at festivals. Hygienic and odourless, faeces are collected in large stainless steel tanks – and processed into humus fertiliser in a pilot plant that is unique in Germany. Environmentally friendly and adding value.
A look into the production halls of umetec GmbH shows that new stable tanks with a footprint of four square metres are currently being welded together from steel plates. The plates were previously laser-cut.
umetec GmbH Stahlbau is pleased that the young company trusts our know-how as a steel construction specialist.
More information: